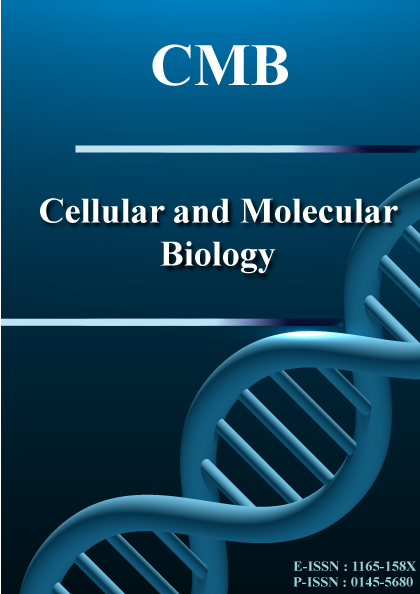 Issue
This work is licensed under a Creative Commons Attribution-NonCommercial-NoDerivatives 4.0 International License.
The "Molecular Biodiversity of Bacteria Isolated from Medicago sativa Rhizosphere in Hail District, Saudi Arabia
Molecular Biodiversity of Medicago sativa associated Bacteria
Corresponding Author(s) : Abdel Moneim Sulieman
abuelhadi@hotmail.com
Cellular and Molecular Biology, Vol. 68 No. 2: Issue 2

Abstract
Global biodiversity is affected remarkably by global climate change, which in turn its effect reflected on all life aspects. Identifying microorganisms in environmental samples, particularly soil could be a valuable interest to study their effect on soil quality and plant growth. Through this study, we conducted a molecular characterization of bacteria found in the rhizosphere of Medico sativa plants grown in Hail soil and we highlighted their main properties. The sequences analyses revealed that the main bacterial isolates Pseudarthrobacter, Metabacillus, Priestia, and Massilia species. According to the sequences analysis and the phylogeny tree results, some of the identified bacteria were classified at the species level: Pseudarthrobacter was identified clearly as Pseudarthrobacter phenanthrenivorans; Metabacillus isolates grouped with Metabacillus sediminilitoris and the two Priestia isolates closely related to Priestia aryabhattai. We concluded that Hail soil is a niche of diverse bacteria with a high interest in soil environment and ecosystems. Further studies are required for further classification of all identified bacteria and to define their specific role in the environment.
Sulieman, A. M., Idris, A. . I., Alshammari, N. ., Alanazi, N. ., Al-Azmi, M. ., Hamadou, W. . ., Albadri, G., & Khamisabadi, H. . (2022). The "Molecular Biodiversity of Bacteria Isolated from Medicago sativa Rhizosphere in Hail District, Saudi Arabia: Molecular Biodiversity of Medicago sativa associated Bacteria. Cellular and Molecular Biology, 68(2), 1–7. https://doi.org/10.14715/cmb/2022.68.2.1
Download Citation
Endnote/Zotero/Mendeley (RIS)
BibTeX