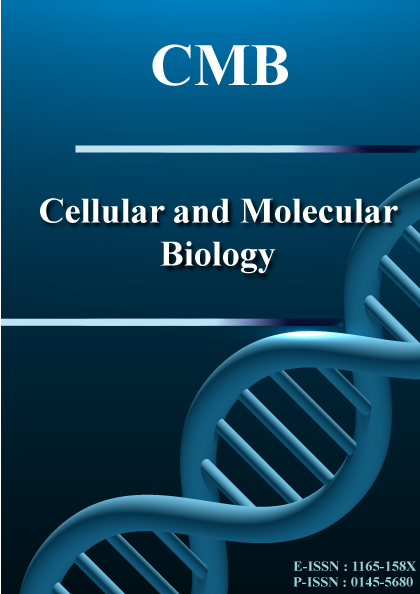 Issue
This work is licensed under a Creative Commons Attribution-NonCommercial-NoDerivatives 4.0 International License.
LncRNA HOXA11-AS modulates the miR-148b-3p/MLPH axis to promote prostate cancer cell proliferation
LncRNA HOXA11-AS modulates the miR-148b-3p/MLPH axis
Corresponding Author(s) : Qingwen Li
bymnlqw@163.com
Cellular and Molecular Biology, Vol. 69 No. 3: Issue 3

Abstract
Prostate cancer refers to the epithelial malignant tumor of the prostate. It has a high incidence and mortality rate, seriously endangering the lives of men. In recent years, lncRNAs have become a hot topic for lots of scholars for their regulation functions on assorted cancers. Several lncRNAs have been proven they can take part in the regulation of prostate cancer development. Nevertheless, how HOXA11-AS (homeobox A11 antisense RNA)functioned in prostate cancer is not explained. In our research, the expression of HOXA11-AS in prostate cancer cells was evaluated through qRT-PCR. Colony formation experiments, EdU experiments, Tanswelland TUNEL experiments, as well as caspase-3 detection, were designed to test cell proliferation, migration, invasion and apoptosis. RIP, pull down and luciferase reporter experiments examined the correlations of HOXA11-AS, miR-148b-3p and MLPH. We discovered a high level of HOXA11-AS in prostate cancer cells.HOXA11-AS silence could restrain the mentioned cell malignant behavior. Mechanically, HOXA11-AS could sponge miR-148b-3p to target MLPH. MLPH was positively associated with HOXA11-AS and overexpressed it accelerated the progression of prostate cancer. Taken together, HOXA11-AS elevated MLPH expression by sponging miR-148b-3p and accelerated prostate cancer cell proliferation.
Keywords
prostate cancer
HOXA11-AS
miR-148b-3p
MLPH
Yang, S., Guan, H., Chen, Z., Wang, S., Wu, H., & Li, Q. (2023). LncRNA HOXA11-AS modulates the miR-148b-3p/MLPH axis to promote prostate cancer cell proliferation: LncRNA HOXA11-AS modulates the miR-148b-3p/MLPH axis. Cellular and Molecular Biology, 69(3), 92–97. https://doi.org/10.14715/cmb/2023.69.3.12
Download Citation
Endnote/Zotero/Mendeley (RIS)
BibTeX