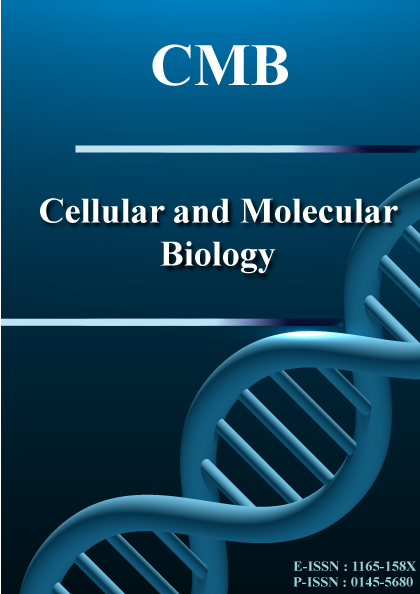 Issue
This work is licensed under a Creative Commons Attribution-NonCommercial-NoDerivatives 4.0 International License.
Evaluation of sperm chromatin/DNA integrity, morphology, and Catsper expression on diabetic C57BL/6 mice
diabetes and evaluation of sperm
Corresponding Author(s) : Elnaz Khordad
khordade1@thums.ac.ir
Cellular and Molecular Biology, Vol. 68 No. 2: Issue 2

Abstract
Background: Diabetes is associated with reproductive impairment on the male reproductive system and causes complications such as decreased libido, fertility, spermatogenesis, sperm motility, and morphology. High levels of blood sugar may affect sperm quality and reduce the potential for male fertility. Increased levels of sperm DNA damage is often associated with reduced count and motility or abnormal morphology.
Methods: This experimental study was conducted in Mashhad University of Medical Sciences. In this work, 40 mice (C57BL/6) were divided randomly into 4 groups: 1) Control, 2) Diabetic, 3) Diabetic + Insulin, and 4) Sham. After 35 days, the right epididymis of all specimens was used for Real-Time PCR and left epididymis for evaluation of sperm parameters using Aniline blue, Toluidine blue, Papanicolaou, and immunohistochemical study. Also, testes were applied for immunohistochemical, TUNEL studies, and biochemical assay.
Results: Results of this study showed that chromatin integrity, morphology, cation channels of sperm (Catsper) expression, and biochemical factors level were significantly changed in diabetic mice in comparison to other groups (P<0.05) and treatment with insulin improved these parameters.
Conclusion: Our findings showed that the sperm parameters such as DNA integrity, morphology, and Catsper expression change in diabetic mice.
Keywords
Diabetes, sperm, chromatin, Catsper, mouse
Khordad, E., Nikravesh, M. R. ., Jalali, M. ., Fazel, A. ., Sankian, M. ., & Alipour, F. (2022). Evaluation of sperm chromatin/DNA integrity, morphology, and Catsper expression on diabetic C57BL/6 mice : diabetes and evaluation of sperm. Cellular and Molecular Biology, 68(2), 8–18. https://doi.org/10.14715/cmb/2022.68.2.2
Download Citation
Endnote/Zotero/Mendeley (RIS)
BibTeX