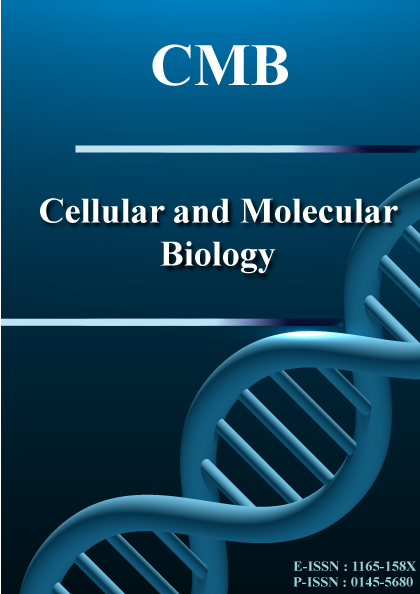 Issue
This work is licensed under a Creative Commons Attribution-NonCommercial-NoDerivatives 4.0 International License.
Protective Effect of Dandelion Leaf Water Extracts on APAP-Induced Liver Injury in Rats and Its Mechanism
Effect of Dandelion Leaf Water Extracts on Liver
Corresponding Author(s) : Xiaodong He
hxd@lzu.edu.cn
Cellular and Molecular Biology, Vol. 68 No. 5: Issue 5

Abstract
with the advent of a large number of drugs in recent years and the aggravation of human aging, drug-induced liver injury is increasing year by year. The protective effect of dandelion extract on acetaminophen (APAP) - induced drug-induced liver injury in rats and its specific mechanism was studied by in vitro cell culture. For this aim,twenty healthy SD rats with the same physiological status were divided into model group and normal group, with 10 rats in each group. The drug-induced liver injury model was made by intragastric administration of 1 g/kg APAP for 14 days. The liver function lactate dehydrogenase (LDH), aspartate aminotransferase (AST) and alanine aminotransferase (ALT) were detected to verify the success of the model. After that, the liver tissues were aseptically isolated from the normal group and APAP model group, and the primary hepatocytes were cultured. They were divided into control group (control), liver injury model group (model), medium-dose dandelion extract group (1mm dlwe) and high dose dandelion extract group (2mm dlwe). The cell proliferation activity was detected by CCK-8 cell proliferation activity kit. Cell samples were collected at 72 hours to detect the contents of AST and ALT in cell supernatant. The contents of oxidative stress-activated oxygen (ROS), reduced glutathione (GSH) and glutathione peroxidase (GSH-Px) were detected by colorimetry, and the apoptosis was detected by flow cytometry. Inflammatory factors, key genes of liver injury, drug metabolic enzymes cytochrome P450 2E1 (CYP2E1), mitogen-activated protein kinase (MAPK) and nuclear transcription factors were detected by RT-PCR- κ B (NF- κ B) P65 signaling pathway-related gene expression level. Finally, the expression of CYP2E1, MAPK and NF-kB signaling pathwayswere analyzed by Western blot. Results showed thatSerum ast, ALT and LDH increased (P<0.05), suggesting that the liver injury model was successful. The hepatocytes in the normal group were oval, flat, evenly distributed and well adhered to the wall. The liver injury model group had more suspended cells, pseudopodia, polygonal and poor growth state. The cells in the medium-dose dandelion extract group (1mm dlwe) and high dose dandelion extract group (2mm dlwe) adhered well, mostly oval, similar to the normal group and grew well. CCK8 found that the cells in the model group decreased significantly, the proliferation activity decreased significantly, the ast, alt, LDH and ROS in the cell supernatant of the model group increased compared with other groups (P<0.05), and the contents of GSH and GSH PX decreased (P < 0.05). Apoptotic cells in the model group increased, and TNF in the model group-α, COX-2, CYP2E1, MAPK, JNK and NF KB p65 increased (P < 0.05). CYP2E1, MAPK and NF KB p65 increased in the model group (P < 0.05).
Keywords
dandelion leaf water extract
APAP
rats
drug-induced liver injury
oxidative stress
apoptosis
MAPK
NF-κB p65
Wang, L., Zhang, L., Wang, J., Li, J., Ding, J., & He, X. (2022). Protective Effect of Dandelion Leaf Water Extracts on APAP-Induced Liver Injury in Rats and Its Mechanism: Effect of Dandelion Leaf Water Extracts on Liver. Cellular and Molecular Biology, 68(5), 24–33. https://doi.org/10.14715/cmb/2022.68.5.4
Download Citation
Endnote/Zotero/Mendeley (RIS)
BibTeX