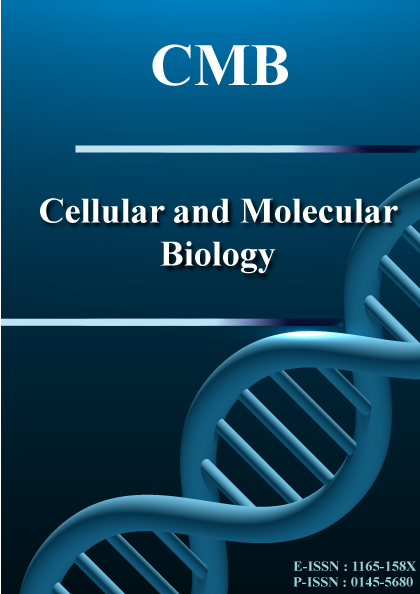 Issue
This work is licensed under a Creative Commons Attribution-NonCommercial-NoDerivatives 4.0 International License.
The FOXP4-AS1/miR-3130-3p/SP4 feedback loop is associated with prostate cancer
FOXP4-AS1 contributes to prostate cancer
Corresponding Author(s) : Zhongliang Cheng
jumu4496412699@163.com
Cellular and Molecular Biology, Vol. 68 No. 10: Issue 10

Abstract
The vital function of mounting long noncoding RNAs (lncRNAs) in prostate cancer (PCa) has been illustrated in increasing reports. However, the roles of many lncRNAs in PCa have not been deciphered. A total of 62 pairs of PCa and adjacent normal tissue samples were provided by PCa patients undergoing surgery. Extensive assays were conducted in this study to investigate the role of FOXP4 antisense RNA 1 (FOXP4-AS1) in PCa tumorigenesis. This study elucidated that FOXP4-AS1 expression was elevated in PCa tissue samples and cell lines. Loss-of-function experiments revealed that depleted FOXP4-AS1 inhibited PCa cell proliferation in vitro and retarded tumor growth in vivo. Mechanically, FOXP4-AS1 functioned as a competing endogenous RNA (ceRNA) of miR-3130-3p, releasing SP4 from the inhibitory effect of miR-3130-3p. Rescue assays validated that FOXP4-AS1 modulated PCa progression via SP4. Interestingly, SP4 is known as a transcription factor and was predicted to bind with the promoter region of FOXP4-AS1. This current research confirmed that SP4 activated the transcription activity of FOXP4-AS1 and thus positively regulated its expression. To conclude, we discovered that FOXP4-AS1, miR-3130-3p, and SP4 constitute a feedback loop and contribute to PCa tumorigenesis, providing a new valuable diagnosis and therapeutic strategy for PCa.
Keywords
FOXP4-AS1
miR-3130-3p
SP4
prostate cancer
Gu, T., Pan, H., Zhang, F., Wang, L., & Cheng, Z. (2022). The FOXP4-AS1/miR-3130-3p/SP4 feedback loop is associated with prostate cancer: FOXP4-AS1 contributes to prostate cancer. Cellular and Molecular Biology, 68(10), 161–166. https://doi.org/10.14715/cmb/2022.68.10.24
Download Citation
Endnote/Zotero/Mendeley (RIS)
BibTeX