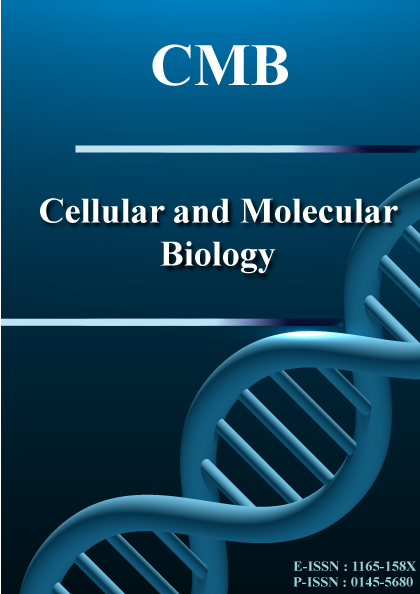 Issue
This work is licensed under a Creative Commons Attribution-NonCommercial-NoDerivatives 4.0 International License.
Spirulina, an FDA-Approved Functional Food: Worth the Hype?
Spirulina as Functional Food – Worth the Hype?
Corresponding Author(s) : Sehar Iqbal
sehar.iqbal@aau.ac.ae
Cellular and Molecular Biology, Vol. 69 No. 1: Issue 1

Abstract
Spirulina, a blue-green microalga is an eminent functional food due to its unique nutritional and disease-mitigating properties. The main objective of this article is to present an overview of the nutritional composition of Spirulina. Along with its therapeutic potential and applications in the food industry. Studies included in this review have suggested spirulina to be a rich source of complete proteins, essential fatty acids (EFAs), vitamins, minerals and various bioactive compounds like carotenoids, chlorophyll, and xanthophylls. This makes Spirulina a promising functional food for the treatment of ailments like diabetes, cancer, cardiovascular disorders (CVDs), COVID-19, neuroinflammatory conditions and gut dysbiosis. Additionally, data from numerous studies suggest its use in food formulations, primarily in sports supplements, bakery products, beverages, dairy products, snack sources and confectionaries. It has also been used by the National Aeronautics and Space Association (NASA) for astronauts on space missions to the Moon and Mars. Furthermore, spirulina's use as a natural food additive possesses enormous potential for further research. Owing to its high nutritional profile and disease-fighting potential, it lends itself to numerous food formulations. Therefore, based on the findings of previous studies, further progress can be made considering spirulina's application in the food additive industry.
Keywords
Spirulina
Algae
Antioxidants
COVID
Functional Foods
Nutraceuticals
Ahmad, A. M. R. ., Intikhab, A. ., Zafar, S. ., Farooq, U. ., Shah, H. B. U. ., Akram, S. ., Abid, J. ., Parveen, Z. ., & Iqbal, S. . (2023). Spirulina, an FDA-Approved Functional Food: Worth the Hype? Spirulina as Functional Food – Worth the Hype?. Cellular and Molecular Biology, 69(1), 137–144. https://doi.org/10.14715/cmb/2022.69.1.24
Download Citation
Endnote/Zotero/Mendeley (RIS)
BibTeX