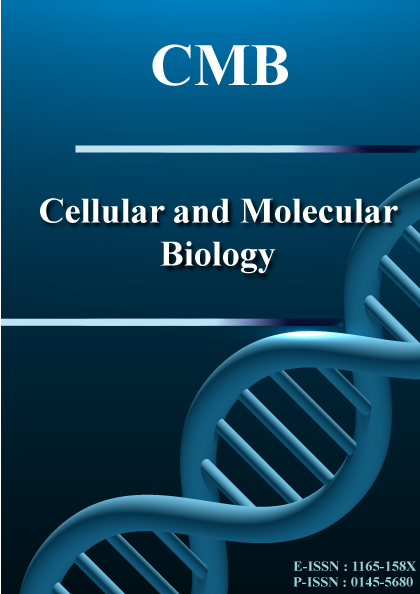 Issue
This work is licensed under a Creative Commons Attribution-NonCommercial-NoDerivatives 4.0 International License.
Pro-inflammatory GPR75 and anti-apoptotic phospholipase signaling pathways contribute to the ameliorating effect of soluble epoxide hydrolase inhibition on chronic experimental autoimmune encephalomyelitis in mice
sEH-selective inhibitor, TPPU, ameliorates chronic EAE
Corresponding Author(s) : Bahar Tunctan
btunctan@gmail.com
Cellular and Molecular Biology, Vol. 69 No. 10: Issue 10

Abstract
Soluble epoxide hydrolase (sEH) inhibition has currently emerged as a therapeutic target in the treatment of various neuroinflammatory neurodegenerative diseases, including multiple sclerosis. Previously, we reported that treatment of mice with a sEH-selective inhibitor, 1-(1-propanoylpiperidin-4-yl)-3-[4-(trifluoromethoxy)phenyl]urea; TPPU), ameliorated chronic experimental autoimmune encephalomyelitis (EAE) induced by myelin oligodendrocyte glycoprotein 35-55 peptide immunization followed by injection of pertussis toxin to mice via regulating pro-inflammatory and anti-inflammatory pathways in the central nervous system. This study tested the hypothesis that the pro-inflammatory G protein-coupled receptor (GPR) 75 and anti-apoptotic phospholipase C (PLC) signaling pathways also contribute to the ameliorating effect of TPPU on chronic EAE. Brains and spinal cords of phosphate-buffered saline-, dimethyl sulfoxide-, or TPPU (3 mg/kg)-treated mice were used for the measurement of sEH, GPR75, Gaq/11, activator protein (AP)-1, PLC β4, phosphoinositide 3-kinase (PI3K) p85a, Akt1, mitogen-activated protein kinase kinase (MEK) 1/2, extracellular signal-regulated kinase (ERK) 1/2, cyclic adenosine monophosphate-response element-binding protein (CREB) 1, B-cell lymphoma (Bcl)-2, semaphorin (SEMA) 3A, and myelin proteolipid protein (PLP) expression and/or activity by using the immunoblotting method. Expression of sEH, GPR75, Gaq/11, c-jun, phosphorylated c-Jun, and SEMA3A was lower, while PLCβ4, phosphorylated PI3K p85a, phosphorylated Akt1, phosphorylated MEK1/2, phosphorylated ERK1/2, phosphorylated CREB1, Bcl-2, and myelin PLP expression was higher in the tissues of TPPU (3 mg/kg)-treated mice as compared with the EAE and vehicle control groups. Inhibition of sEH by TPPU ameliorates chronic EAE through suppressing pro-inflammatory GPR75/Gaq/11/AP-1 pathway and reducing expression of the remyelination inhibitor, SEMA3A, as well as increasing anti-apoptotic PLC/PI3K/Akt1/MEK1/2/ERK1/2/CREB1/Bcl-2 pathway activity and myelin PLP expression.
Keywords
Experimental autoimmune encephalomyelitis
inflammation
soluble epoxide hydrolase
apoptosis
TPPU
Horat, M. F., Senol, S. P., Bahceli, O., Temiz-Resitoglu, M., Sahan-Firat, S., Sevim, S., & Tunctan, B. (2023). Pro-inflammatory GPR75 and anti-apoptotic phospholipase signaling pathways contribute to the ameliorating effect of soluble epoxide hydrolase inhibition on chronic experimental autoimmune encephalomyelitis in mice: sEH-selective inhibitor, TPPU, ameliorates chronic EAE. Cellular and Molecular Biology, 69(10), 9–16. https://doi.org/10.14715/cmb/2023.69.10.2
Download Citation
Endnote/Zotero/Mendeley (RIS)
BibTeX