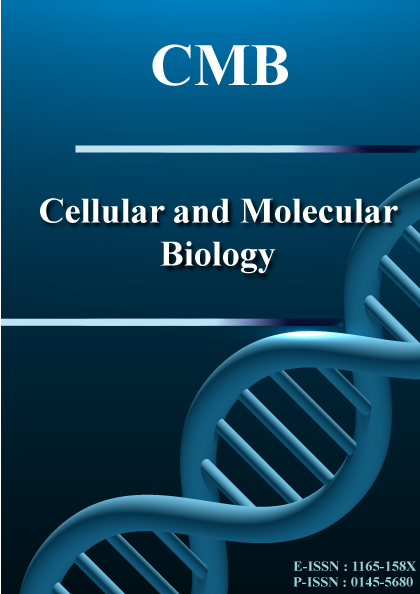 Issue
This work is licensed under a Creative Commons Attribution-NonCommercial-NoDerivatives 4.0 International License.
MicroRNA-626 inhibits mTOR pathways activity of retinal pigment epithelial cells by targeting SLC7A5 in human ARPE-19 Cells
mir-626 targeting of SLC7A5
Corresponding Author(s) : Çilem Ercan
cilem.ercan34@gmail.com
Cellular and Molecular Biology, Vol. 69 No. 10: Issue 10

Abstract
Recent studies have shown that miRNAs are associated with the pathological process involved in age-related macular degeneration (AMD). However, the microRNA-mediated post-transcriptional regulation in human retinal pigment epithelium (RPE) cells has not been adequately investigated. We investigated how miR-626 inhibits mTOR activity pathways and pathway-related genes in retinal pigment epithelial cells by targeting the solute carrier family seven-member 5 (SLC7A5) in ARPE19 cells.    We transfected mir-626 mimic, mir-626 inhibitör and siRNA in human retinal pigment epithelial cell line was examined using RT-PCR and western blot, respectively. We knocked down mir-626 levels and overexpression by mir-626-siRNA transfection of human RPE cell lines, and using an MTT assay, we assessed the role of SLC7A5 on RPE cell proliferation. We additionally measured the expression of mTOR, Akt1, caspase 3, Bax, SLC17A7, SLC17A8, Creb1, Pten, HIF1A, HIFI. The findings demonstrate that mir-626 inhibits SLC7A5 gene expression and proliferation of ARPE-19 cells. Short interfering RNA (siRNA) mediated suppression of SLC7A5, a predicted target of mir-626, has the same effect on ARPE-19 cells. We identified how miR-626 causes apoptosis and macula degeneration in RPE cells by targeting SLC7A5 through the mTOR signaling pathway. miR-626 was an essential regulator of the expression of the Slc7a5 gene. Importantly, we determined that miR-626 is essential to play a role in AMD. This research project shows that SLC7A5 is a direct target of mir-626 in ARPE-19 cells for the first time.
Keywords
Keywords : AMD, ARPE-19, mir-626, mTOR, RPE, SLC7A5
Ercan, Çilem ., Elbay, A. ., Aslan, E. S. ., Akbaş, F. ., Ozdemir, H. ., & Ozgentürk, N. O. . (2023). MicroRNA-626 inhibits mTOR pathways activity of retinal pigment epithelial cells by targeting SLC7A5 in human ARPE-19 Cells: mir-626 targeting of SLC7A5. Cellular and Molecular Biology, 69(10), 17–22. https://doi.org/10.14715/cmb/2023.69.10.3
Download Citation
Endnote/Zotero/Mendeley (RIS)
BibTeX