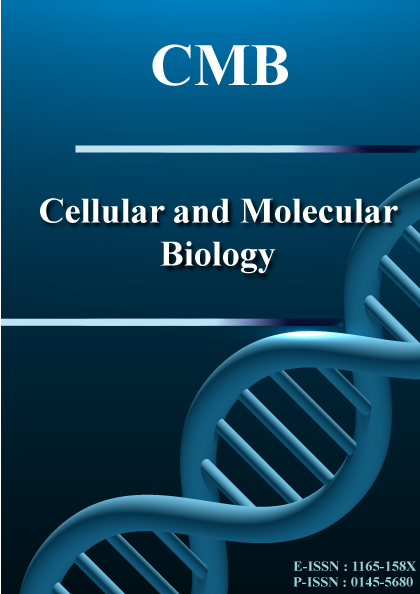 Issue
This work is licensed under a Creative Commons Attribution-NonCommercial-NoDerivatives 4.0 International License.
Evaluation of genetic diversity using iPBS-SCoT marker methods in native hawthorn genetic resources and species ıdentification by using DNA barcoding method
Genetic diversity by iPBS-SCoT marker in native hawthorn
Corresponding Author(s) : Halil Ibrahim Sagbas
hibrahimsagbas@gmail.com
Cellular and Molecular Biology, Vol. 69 No. 10: Issue 10

Abstract
Hawthorn is an important medicinal plant that spreads around the world and is used in traditional Chinese medicine. Its flowers and leaves contain flavonoids, vitamins, organic acids and essential oils. Its fruit is consumed as fresh and dried and is an important plant for human health. In this study, iPBS (Inter Primer Binding Site) and SCoT (Start Codon Target Polymorphism) markers were used to analyze genetic variation among 101 hawthorn genotypes collected from Çoruh Valley, Türkiye and ITS markers were used for DNA barcoding.  Ten iPBS primers were used and a total of 400 alleles were identified from ten iPBS primers with an average of 40 alleles. PIC values ranged from 0.239 (iPBS 2387) to 0.272 (iPBS 2244). Twenty SCoT primers were used and have an average of 50.05 alleles. The PIC values of the primers ranged from 0.251 (SCoT 2) to 0.297 (SCoT 34). For the DNA barcoding study, it was confirmed that the correct region was amplified and sequenced. The genotypes we used in the study matched 14 different accession numbers by searching a BLASTN in the NCBI. NCBI similarity rates of hawthorn genotypes are between 90.83% and 100%. The study emphasizes the genetic diversity of hawthorn grown from seed and the importance of preserving plant genetic resources.
Keywords
Crataegus
Hawthorn
DNA
iPBS
SCoT
ITS
Barcoding
Genetic diversity
Sagbas, H. I., Ercisli, S., Aydin, M., Ilhan, E., Aydinyurt, R., Kasapoglu, A. G., Muslu, S., & Polat, Y. . (2023). Evaluation of genetic diversity using iPBS-SCoT marker methods in native hawthorn genetic resources and species ıdentification by using DNA barcoding method: Genetic diversity by iPBS-SCoT marker in native hawthorn. Cellular and Molecular Biology, 69(10), 43–55. https://doi.org/10.14715/cmb/2023.69.10.6
Download Citation
Endnote/Zotero/Mendeley (RIS)
BibTeX